SUP,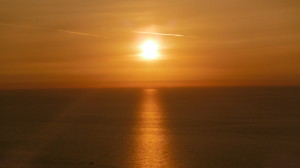 I recently had the pleasure of going to Beachy head SUP expeditions Sussex and seeing Beachy Head lighthouse up close and personal and SUPed around one of Britains most iconic headlands " the seven sisters ".
On the Kayak map of GB, the route from cuckmere haven to Eastbourne is classed as " for experienced paddlers only " so it was a bit daunting but nevertheless a very exciting challenge.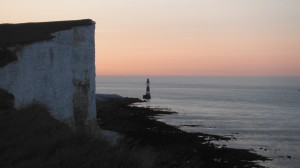 Myself , Peter , Marc and Rachel , met at Birling Gap at 6AM , drove to Eastbourne to drop a van off and drove back to BG , took the SUPs and Marcs Kayak down the steps and set off on our trip . We had a VHF radio , phones and first aid kit with us just in case !! We headed into an 8MPH Easterly wind which made it very hard going and we stopped three times for quick breaks on the way to the lighthouse . We reached the lighthouse and although there was a bit of a swell , there were very inviting steps up on to a level area which was just to inviting not to go up !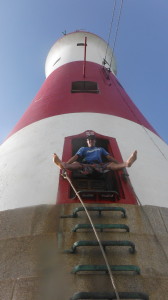 Millions of people have stood on the cliffs and looked down onto the lighthouse but I dont think too many people have been on it so I felt very privileged . The views of the 300 feet cliffs towering above us were amazing and made you feel very insignificant indeed . For about 5 minutes we were all shouting and hearing our shouts echo off the cliffs was great fun .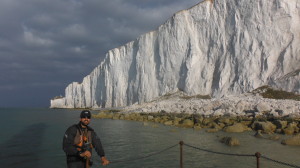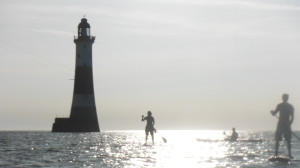 We landed on a very small secluded beach which had the remains of a car on it , which looked as if it had been through the scrapyard press machine !! We had sandwiches and coffee , chilled for 10 minutes and then back to it.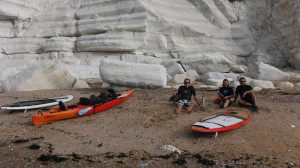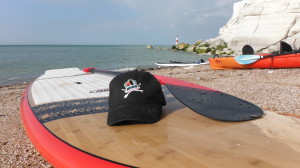 So we had Marcs GPS with us and we were about half way there but we all thought as soon as we were headed round the bend that the wind was going to hit us even harder but we thought we should take a look at least , then a very strange thing happened ………..as soon as we rounded the headland the wind just dropped off to nothing and we paddled the last hour back to Eastbourne at a very leisurely pace , well apart from Marc who dashed back to stop us getting a ticket as were very tight on time , he made it with minutes to spare , well done Marc .
We all sat on the beach at Eastbourne buzzing from our trip and had a lovely refreshing dip in the sea to cool off .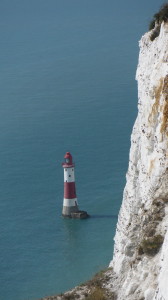 It was a superb trip and as we sat on the cliff at Birling having a cup of coffee , out of nowhere the seamist rolled in and literally you could not sea further than 100 metres so we got back just in time !!
We will be doing plenty more trips and expeditions so if you want to join us on our next adventure , join the Brighton Kitesurf and SUP Academy facebook page where we post all the trip details and info .
Have fun on the water and see you all soon Frazer xx